Laid Off Now What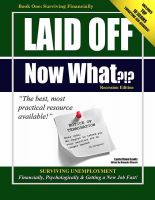 Laid Off Now What?!? Thriving Financially through Unemployment
The new recession edition updates the first section of Laid Off Now What 2003 with the best places to look for a job, insights into unemployment compensation,what you need to do now, hidden money you may not know you have, over a dozen ways to make money during unemployment without affecting your compensation plus detailed examples of the top 10 scams targeting the unemployed.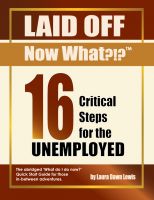 16 Critical Steps for the Unemployed
From the Laid Off Now What Series, this abridged version of Chapter One tells you what you need to do as soon as you find out you're about to lose your job. These 16 Critical Steps will insure you do not lose money by not doing things and you may garner more money through these tips. It also assures you have plans in place to address any issues that might come up.