Thrown to the Wolves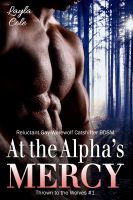 At the Alpha's Mercy (Reluctant Gay Werewolf Catshifter BDSM)
By
Layla Cole
Series:
Thrown to the Wolves
, Book 1. Price:
$2.99 USD.
Words: 10,110. Language: English. Published: February 10, 2013. Category: Fiction
When Gabriel, a half-breed catshifter, is thrown out of his Pride and left in Pack territory, he expects the Alpha wolf to finish what his family started. But instead, the Alpha, sensual and demanding Nick, offers to help Gabriel get revenge. The price? He must do whatever the Alpha desires for the next thirty days. Even if what Nick wants more than anything is Gabriel's surrender--body and soul.