Arcadia Gamers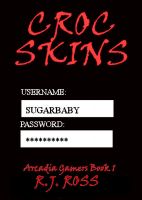 Croc Skins (Arcadia Gamers Book 1)
After three months of playing the virtual reality game, Arcadia, Shelly (AKA SugarBaby) has decided to enhance her avatar. But she gets more than she can handle when she walks into the local skinshop, Croc Skins. Croc is big, blunt, and hard to handle, so she has no clue why she winds up working for him--or more importantly, loving him. But Shelly's a gamer. She isn't about to lose in love!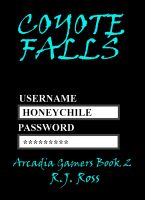 Coyote Falls (Arcadia Gamers Book 2)
Her apartment's ceiling is leaking -- and she lives on the second floor. When Mattie (AKA Honeychile) is asked by her parents to house sit for the summer, it sounds perfect (and dry.) What her parents failed to tell her was that she'd be taking care of a gothic little sister--and their good looking roofer neighbor. Love comes on all the levels of this game, so what can she say? "Game on!"