Grandfather Mummy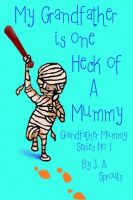 My Grandfather Is One Heck Of A Mummy
Jo Skinner is turning forty, and discovers her grandmother was a double murderer– sort of, her grandfather, Hank, almost a murder victim, is still alive and mummified. Not one of her better days and Hank isn't helping by hitting on her. She finds herself looking for the money Hank's bank robbing mistress, Clash, hid before her grandmother killed her and stuffed her in a trunk in the attic.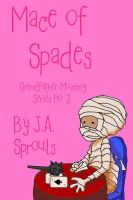 Mace Of Spades
Hell hounds, demons, superstitions and consortium men - Jo Skinner, her mother, Ava and living mummy, Hank must overcome those obstacles in order to clear Jo's name and find the murderer of Edna Clankerton. As they run their newly opened inn, they profoundly hope that one of the guests isn't the real murderer. That could really put a damper on future bookings.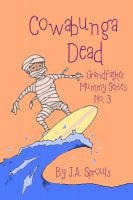 Cowabunga Dead - Grandfather Mummy Series #3
Jo, Ava, and Hank Skinner don't take too kindly to someone murdering a popular television reality star and dumping the body into the moat of the Clankerton Medieval Museum. To top things off, because of the murder, the town mayor shuts down Hank's money making endeavor. This simply won't do. The sooner they find the murderer the sooner Hank can get back to hauling in the dough.