The Edenix Cycle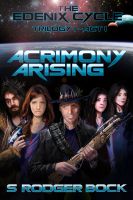 The Edenix Cycle: Acrimony Arising
Crash! In an instant, life changed for the dreamers who traveled to this virgin world. Death and devastation followed. However, when three of the town's young women are abducted, the people rally behind Dirk Bayo, a broken-hearted self-exiled hunter. Dirk must utilize his tracking skills to bring the women home before the kidnappers spirit the girls too far from reach...or vanquish them forever!
The Edenix Cycle: Edenix Asunder
Morgan's plan to escape mundane mediocrity has succeeded—so far. But when she arrives in the new town full of hope and promises, her scheme immediately encounters obstacles. Against overwhelming odds, she must persevere in her plan and win the heart of the only one who can give her what she most desires. Will Morgan's scheme unravel? Is she doomed to be a slave? What is her dangerous design?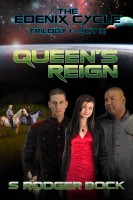 The Edenix Cycle: Queen's Reign
Seven years after the dramatic events in Par's Complex, the peaceful citizens of Bayo Town find themselves under attack. Dirk Bayo and the new young mayor, Washington Gray, must rally those willing to fight back against the superior invader. Behind it all is a treacherous plan conceived by a warped and twisted leader. Will the fledgling colony on Eden IX come to a bloody end?