Alex Mason and the Smoky Forest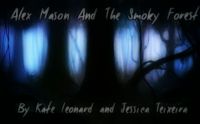 Alex Mason and the Smoky forest
Alex Mason is only 11 but is facing the evilest person in the world! He also has to go to his new high school. Read on and be with Alex as he faces Grave danger!
Alex Mason and the Smoky forest 2-A new girl, a new journey
Alex Mason is back again, this time to go out of school! He is going to see some crazy, but true, things. He is going to ride on the back of a dragon and a giant eagle! This time hunting for a man and his deadly silver whistle, which could kill thousands of people in seconds...