Cottonmouth
She's Gotta Be Mine (a sexy funny mystery/romance, Cottonmouth Book 1)
Dumped by her husband for his former sweetheart, Roberta Jones Spivey reinvents herself. The new Bobbie Jones—new haircut, new attitude—follows him to Cottonmouth, California. The best way to show him his mistake: take up with the town bad boy, sexy Nick Angel—who's reputed to be a serial killer. It's going according to plan...until murder rocks Cottonmouth. Nick didn't do it...did he?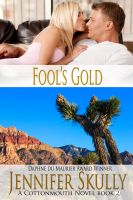 Fool's Gold (A sexy funny mystery/romance, Cottonmouth Book 2)
When his sister puts out a distress call, Sheriff Braxton heads out of Cottonmouth to Goldstone, Nevada, never suspecting he's going to have to offer advice to the lovelorn. A scary enough prospect, but when murder happens, he's suddenly hip-deep in small-town secrets. Then there's Simone Chandler. Is she the real thing, or, as with everything else in Goldstone, is she Fool's Gold?
Can't Forget You (A sexy funny mystery/romance)
There's something very special about the house Maggie grew up in. It's sort of...alive. With a mind of its own. And it has plans for the people living there now. Still grieving for her grandmother and trying fix up the house that seems to be falling down around her, Maggie's got more trouble than she can handle. Then things go from bad to worse when Samson the dog starts digging in the basement…