Metropolitan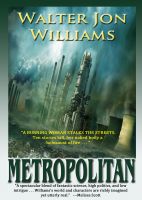 Metropolitan
NEBULA AWARD NOMINEE. Walter Jon Williams' classic science fantasy Metropolitan is once again available for a new generation. Aiah has fought her way from poverty and discovered a limitless source of plasm, the mysterious substance that powers the world-city. Her discovery soon involves her with Constantine, the charismatic, seductive revolutionary who plans to overturn the world order.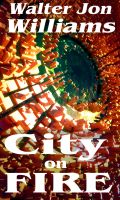 City on Fire (Metropolitan 2)
Nominated for both the Hugo and Nebula Award, City on Fire returns to the world-city of Metropolitan, dominated by plasm, the magical substance capable of both creation and destruction. With her help, Aiah's lover Constantine has established himself in the metropolis of Caraqui---Aiah must fight not only for her revolution and for her place in the world, but for Constantine's very soul.