The K' Turi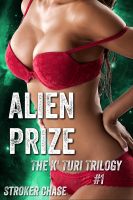 Alien Prize (The K' Turi Trilogy)
Eileen, taken by the K' Turi, a dominant and proud alien race, watches as champions fight over her. She's their prize, and will be offered to the winner. Humans are cherished by the K' Turi, only the strongest of champions get the honor to lay with a human female.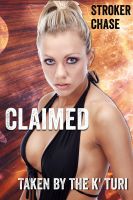 Claimed (Taken by the K' Turi)
Rae, innocent college student, can't stop her arousal. It's quite unusual, since she always has everything in check. It gets worse, much worse, and she runs into the woods, called there by a mysterious, dominating force in her dreams. There she finds Vex, a powerful K' Turi who has put the spell on her.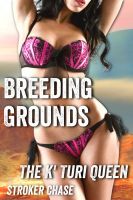 Breeding Grounds (The K' Turi Queen)
Rae, the sexy, rare Earthling, has been called the Queen of the K' Turi, her child praised the savior of the K' Turi race. There's only one major problem. She's not pregnant. She fears the worst, until she's told she needs to be mated to three K' Turi in order to have her child. Her two K' Turi warriors, Vex and Kaach must convince the space pirate Dres Voda to go along with their master plan.