Arkle Wright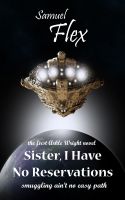 Sister, I Have No Reservations
The first Arkle Wright novel. Arkle Wright is a sweary, lardy, beardy smuggler bombing through space on a wish and a prayer. He smuggles whatever he gets his greasy hands on—the only question for his clients being 'Where to?' and 'How much?' His only attachment in the universe is his ship, the Navaplastas, which he treats with a scary level of dedication and, dare say it, love.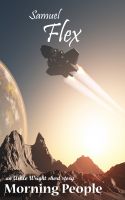 Morning People
An Arkle Wright short story. Orbiting Telfon-90, Arkle Wright's beloved spaceship plummets towards the ground. Any attempt to arrest the descent fails. And even with rescue at hand Arkle finds himself in deep trouble, because he must face off with one of his fiercest adversaries thus far. Morning People.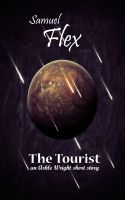 The Tourist
An Arkle Wright short story. Meet Arkle Wright: Space smuggler. Ship lover. Body odour. And a life-long romance with a quick buck. In 'The Tourist' Arkle sucks in his gut and prepares to break Rule One in the space smuggler handbook: Don't pick up work in bars . . . Except for a great payoff.