Petroleum Sunset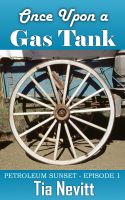 Once Upon a Gas Tank
When their only family car is stolen, Ty and his kid brother Joel can't believe it when Pa buys a horse-n-buggy instead of another car. But Pa has decided to accept the reality of a world where fuel is getting scarce. "Once Upon a Gas Tank" is a short tale about two brothers in a world where progress is stuck in reverse.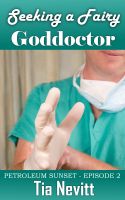 Seeking a Fairy Goddoctor
When Joel jabs his arm with a rusty piece of metal while prospecting for plastic at the town dump, their Ma is countin' on Ty to find Joel some decent medicine. They head to the city, where Ty must contend with overloaded medical bureaucracies, rapscallion fraudulent doctors, blood-stealing bouncers, and a shadowy medical underground in order to find Joel the object of his quest: A tetanus shot.