Essays in Travel and Humor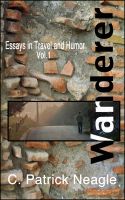 Essays in Travel and Humor Vol. 1: Wanderer
The first in a series of books collecting travel and humor pieces the author wrote for a fabulously well-regarded newspaper column ("fabulously well-regarded" by his two dozen readers, anyway) while teaching college-level English classes onboard US Navy ships. Thrill as he rides a camel! Gasp as he avoids immolation in a volcano (by not, y'know, falling in)! Be filled with the joy of travel!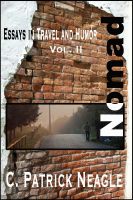 Essays in Travel and Humor Vol. 2: Nomad
This second volume of author and photographer C. Patrick Neagle's series is bigger and better, containing 36 travel-sized essays and 30 photographs from around the globe (but mostly from Arabia, Asia, and the Mediterranean). Filled with humorous and sometimes thoughtful commentary, these essays may help you avoid moped gangs in Europe, dive for pearls in Bahrain, and ride elephants in Malaysia.