Grandma's Little Black Books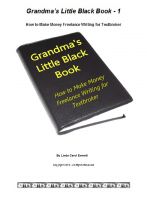 Grandma's Little Black Book - How to Make Money Freelance Writing for Textbroker
Grandma's Little Black Book – Writing for Textbroker is an eBook filled with important SHORTCUT information that new writers should have at their fingertips for fast success. Benefit from Grandma's four years of experience writing for Textbroker, and earning a decent income from freelance article writing. This is an excellent way to learn the ropes without spending the time learning the hard way.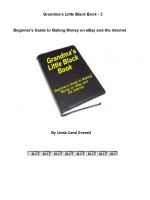 Grandma's Little Black Book 2 - Guide to Making Money on eBay and the Internet
Tips from Grandma – an eBay seller for almost a decade; learn some shortcuts and valuable tips for making money online. Learn what to sell, how to find items to sell, how to write your ads, how to take photos that showcase your items and more with this short but informative eBook. Good eBook for beginners who want to make money online.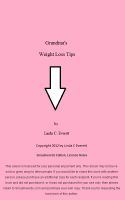 Grandma's Losing Weight Tips
Learn weight loss tips from Grandma, who has seen, heard and tried many diets over her past six decades. Use this eBook as a quick guide for how to diet and stay on track so that this time you are successful in losing weight.