The Spidy Chronicles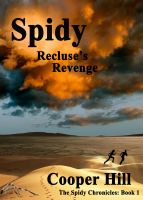 Spidy, Recluse's Revenge
Born a prisoner of no worth in a dystopian Australia gone dead from the nuclear; betrayed, forced into drone service harvesting wah from seasonal mists in the Void, Skoshi escapes mutant spidys, violent earth changes and a death sentence, tracking a trail of ancient clues to freedom with her new mates in a new land. But all is not as it seems and the betrayal runs deeper than she can imagine.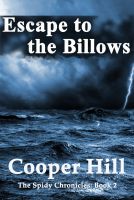 Escape to the Billows
Hunted by the Assembly, haunted by a 400 year-old prophecy, Skoshi races against time to unravel secrets left by the ancients to a promised freedom track. Wah-drone vets join to follow and protect her as she seeks a hidden cache of ships and an escape across the salty billows. A dystopian Australian Void is torn apart by great earth-changes as the Assembly launches an assault to destroy them all.