Super Monkey Group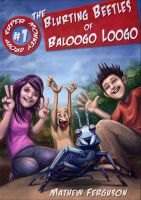 The Blurting Beetles of Baloogo Loogo
Twelve-year-old friends, Tia and Max, and the last golden monkey, Po, fight against Toran, an amoral gourmet who eats endangered species to extinction. Featuring Exploding Cactus Corn, hungry Ligers, Red Goop, Sugar Slugs and Bolliverger's Old, a cheese so disgusting it can knock you out, saving a hundred beetles from the frying pan isn't going to be easy...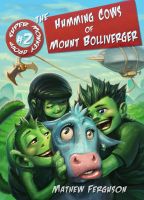 The Humming Cows of Mount Bolliverger
Tia, Max and Po face off against Toran in a race to save the Humming Cows of Mount Bolliverger ... and the most disgusting cheese the world has ever known. Featuring wasps that can wipe your memory, Musical Cows, Chanting Monkeys, Green Goop and Multicoloured Mould, Super Monkey Group roar into another mad adventure.