A Dreamer's Knight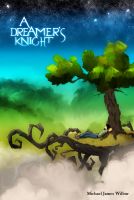 A Dreamer's Knight
All the Dreamer known as Narrator Number One wants is a break, but when a knight from post-apocalyptic Earth falls out of the sky, One puts his vacation on hold to help the poor fellow. It won't be easy; to help his new friend, One will have to deal with metal dragons, sinister monks, kidnapped royalty, old girlfriends, massive war machines, and the other Dreamers of the Elsewhere Incorporate.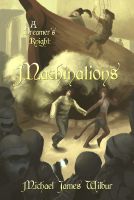 A Dreamer's Knight: Machinations
Just when Narrator Number One thought he had finished with Vinta, a mistake sends him back to square one. Now he travels with Mikaen to the technological superpower of Ronisgald in search of a dangerous enemy. To help the wayward knight, One must pit himself against supervillains, the Ronisgald Security Force, the machinations of his fellow Dreamers, and the competing affections of Teria and Luck.