Seasons of Deception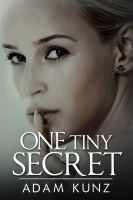 One Tiny Secret
By
C.A. Kunz
Series:
Seasons of Deception
, Book 1. Price:
$2.99 USD.
Words: 78,310. Language: English. Published: May 20, 2013. Category: Fiction
Just one tiny secret has the potential to ruin everything. Being the daughter of the sheriff in a small town like Holden Ridge means that eighteen-year-old Danielle "Dani" Marks' life is under constant surveillance. She's made a habit of staying under the radar by being a floater among social circles at school, which has kept her out of trouble—until now.