Big Cock Gangbang Squad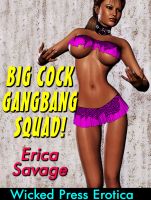 Big Cock Gangbang Squad (Explicit Erotica, Multiple Partners, MMMF, Gang Bang)
Three extremely hung friends gangbang a 19 yr old petite asian, a busty latin fitness babe, and a sexy wife. Not for the easily offended! Adults Only (explicit content)! Themes: Gangbang, Multiple Partners, Hung, Rough Sex, BDSM, Humiliation, MMF, Control, Busty, Submission, Overly-Endowed, Strap-On (female-female).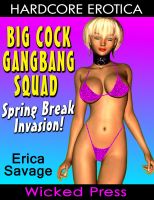 Big Cock Gangbang Squad - Spring Break Invasion! (Explicit Erotica)
The Big Cock Gangbang Squad is back! See what happens when a trio of Hung studs invade Spring Break. The "Miss Spring Break" bikini contest winner gets gangbanged hard! Find out which other sexy babes get mercilessly pounded in this XXX story! Adults Only! Themes: Gangbang, Multiple Partners, MMMF, Busty Females, Hugely-Endowed Males, Bukkake, Rough Sex, Spring Break, Anal Sex, Oral Sex.