The Wayfaring Traveler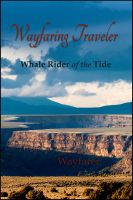 Wayfaring Traveler: Whale Rider of the Tide
Wayfaring Traveler is the book that launches you into the heart of America and planetary change. Homeless and scared witless, Wafarer went plummeting into fiscal hemorrhage of downsizing and diaspora. Made long journey in old car; met interesting characters; lived in a tent. What mattered finally? Meet-your-eye people, truth in a handshake, the call of the wild, and seize-the-day.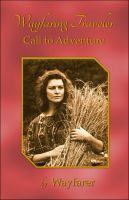 Wayfaring Traveler: Call to Adventure
Readers of Wayfaring Traveler, Whale Rider of the Tide, the first book in this series, have "pulled up a chair, and set awhile." A cheery hey, and set ye down, if you've just arrived. You'll find a hearth fire welcome here, stories of land, deep sea, deep space, and our humanity.