The O'Byrne Daughters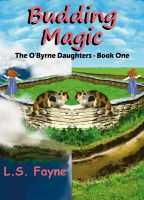 Budding Magic (The O'Byrne Daughters - Book One)
Ireland – 1838 Aine and Keegan set up magical devices which would aid the Irish during the famine. Before these protections were finished, Keegan was murdered. On the day her seventh daughter is born, Aine activates the magical devices with Birth magic, and then Death—her death magic. Shocked, the daughters find themselves orphaned with mysterious magic working around them.
It's Just Magic! (The O'Byrne Daughters - Book Two)
Ireland 1838: The O'Byrne daughter's evil Aunt had been defeated by her own hand. Now, they must rescue Celeste, set Captain Brewster's brother and cousin free, find Davy's people, find out whose little bones were in the evil room, and free their cousin from his evil mother's influences. What of their Aunt? Should they rescue her as well? Even if they wanted to... could they?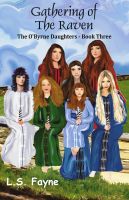 Gathering of the Raven (The O'Byrne Daughters - Book Three)
Ireland - 1841. The daughters are now nearly ready for their travels to America. Now, seems the perfect time. They have a keen understanding of the gifts born to them. They understand each other and how to mesh their gifts. The villagers were finally quiet of needing assistance of the magical sort, and all is calm in the magical forest. So what was stopping them? They were ready, weren't they?