Alexander Moffat Mysteries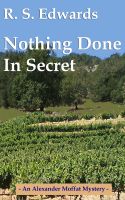 Nothing Done in Secret
An overbearing realtor is dead at the church she planned to convert to condominiums. A man in a ski mask attacks a young woman revealing a pattern of unsolved crimes going back three decades. Captain Alexander Moffat must conduct two very different investigations. Nothing Done in Secret is a British-style mystery set in the small towns and vineyards of California's picturesque Gold Country.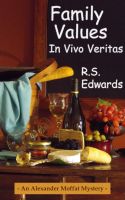 Family Values: In Vivo Veritas
Brian Rocha is a charismatic politician with nasty habits. How did he end up in the Old Schoolhouse in the 150-year-old California gold rush town of Manzanita? Police Captain Moffat and Sergeant De la Peña find clues in food and drink, cosmetics, the zeroes and ones of computer hard drives and one very tidy recycling bin. They unearth a shocking conspiracy. Does it answer the question about Brian?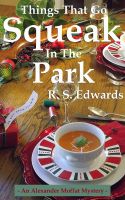 Things That Go Squeak in the Park
Thanksgiving, Christmas, New Year's...most people add a few pounds over the holidays. Police Detective Moffat adds unsolved murders to his caseload. When 10-year-old Gina finds a body in the community garden, Captain Moffat realizes something strange is going on at the Department of Environmental Health in the historic western town of Biglerville in California's Sierra Nevada Mountains.