Joe's Black T-Shirt
St. Louis is an amazing city where elitists, idealists, and pacifists co-exist with the disenfranchised, the amoral, and the secretly racist. Ignored, except by the brave who decide to live here or the damned with no other choice, come thirteen stories that prove there is nowhere in the world like it.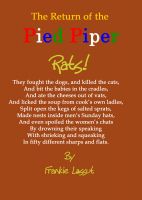 The Return of the Pied Piper
I finish work for a few days, and get scared because I then didn't have anyone to think for me. I go up North, but break down on the motorway. I am going to have to pay for a tow or a repair, but my credit card overhears and doesn't like what it overhears. Why am I going anyway? My mother just spends a couple of days nagging me. Join me on my strange adventure.