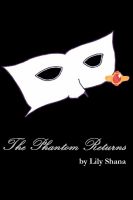 The Phantom Returns
In this story, the Phantom does return but he is out for revenge against Christine! But, he doesn't realize that she is dead so how is he to get revenge? Meanwhile, the new owners of the Opera House are facing problems as the Phantom plays a few stunts on the main actors, even going as far as to kidnap a police officer. Now, it's up to two plucky kids to get rid of the Phantom.
Baby Girl Book 2 Moonlighting in Paris
(5.00 from 1 review)
The room was spinning out of control in front of my eyes. My brain couldn't digest all that had been put on its plate. According to my mom I had been abducted by her to protect me from my true family? Who was my family and why would they want an innocent baby gone? My life had just gotten a hundred times more insane than it had been a few moments ago.