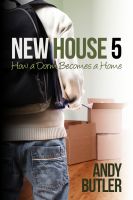 New House 5: How a dorm becomes a home
by

Andy Butler
(4.33 from 3 reviews)
Welcome to New House 5. For fifty-six freshmen it's home. A place where friends are made and doors are always open, where hearts are broken and tears are shed. And for resident assistant Andy Butler, it's the best story about friendship he has ever known. Watch as these students try to overcome their flaws and fears to create a bond so special that nothing can pull them apart. Not even themselves.
Walking Within The Shadows
by

David Layman
(3.00 from 1 review)
Walking Within the Shadows offers the reader a view of a number of issues that young adults encounter, many controversial and many that have to be faced with little or no help from their peers or from real-life experiences. Annabelle Jackson is at an even greater disadvantage; she has been home-schooled and lived as a recluse, very isolated for most of her teen years...