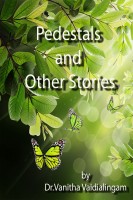 Pedestals and Other Stories
What if your prejudices, beliefs, traditions are suddenly challenged? What if you feel that you need to break the shackles that bind you and step into the unknown with confidence? What if you are are psychologically burdened and suddenly see a way out of the labyrinth of your mind? What should these people do--Change, transform or break? What do they do? Find out more...
Through Grandpa's Eyes
Presley Jennings is a sixteen year old boy, who adores his grandfather. When the elderly man collapses, Presley, is the only person who can save his life. Through some higher power, Presley finds himself traveling through his grandfather's life, and he learns what a truly remarkable and unselfish man his grandfather was and still is. This heartwarming story is suitable for all age groups.