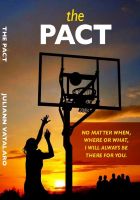 The Pact: No matter when, where or what, I will always be there for you.
Nikki Vataro lost her parents and brother when she was just eleven years old. She spent six year on the streets and in juvenile detention. She is now seventeen and ready to get her life back on the right path. She believes she will be going through life alone, but thanks to a pact her father made many years ago, four of her fathers old fraternity brothers will be there to help her find her way.
Perfectly Scarred
(4.50 from 4 reviews)
Mark Sanderson is a sixteen year old boy just trying to survive, but between his abusive mother pulling him down into the darkness and newcomer Hayden Mitchell reaching out to show him the light, he has a tough decision to make. Will Mark choose the light or will he stay in the dark? And what happens when Mark finds out that Hayden has secrets as well, dark secrets that rival his own?