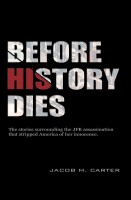 Before History Dies
by

Jacob Carter
At 12:30 p.m. on November 22, 1963, John Fitzgerald Kennedy was assassinated. More than half a century has passed since that fateful moment, yet so many questions remain unanswered. Lone gunman? Conspiracy? And then there is that one big question: Does it still matter?
Conspiracy History - A History of the World for Conspiracy Theorists
by

Andrew May
JFK, the Bilderberg Group and the New World Order – conspiracy theories abound on today's internet, but they are nothing new. Taking a long-term view reveals century after century of covert conspiracies, murder plots and political intrigues. The history of the world is riddled with hidden agendas, scheming politicians and secretive organisations.
Related Categories