Celebrity World: Guilty Until Proven Innocent
by

P.J. Goldsilk
"I thought the law was innocent until proven guilty but I guess when you get accused of such an outrageous crime without any solid evidence, people should hop on the bandwagon and condemn that celebrity even before he's allowed to prove his innocence," – this is the type of world I live in.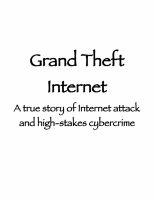 Grand Theft Internet: A true story of Internet attack and high-stakes cybercrime
by

J. Timothy King
Like any other small businessman, he assumed his Internet account was safe. Instead, he found himself a victim of the latest crime wave when a cyber-criminal hijacked VL.com in a high-tech heist. Told by a witness, reconstructed from forensic evidence, this gripping account takes you inside the mind of the attacker, showing how domain theifs bypass security and could strike any of us.