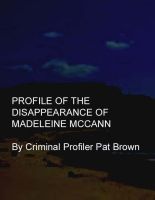 Profile of the Disappearance of Madeleine McCann
by

Pat Brown
(4.83 from 6 reviews)
What really happened to Madeleine Beth McCann in Praia da Luz, Portugal in 2007? Was she abducted as the Gerry and Kate have claimed or did something happen to Madeleine on May 3 in the vacation apartment and the incident covered up? Criminal Profiler Pat Brown analyzes the evidence and takes the readers through the steps of profiling, developing a theory that is intriguing and controversial.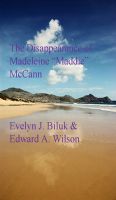 The Disappearance of Madeleine Maddie McCann
by

Dr. Evelyn J Biluk
A riveting, concise account of the facts surrounding the disappearance of Madeleine "Maddie" McCann from Portugal, during a family vacation in 2007. Also, includes a review of the entire suspect list (Kate McCann, Gerry McCann, Robert Murat, and many more) and how Portugal Police eliminated many of them but not all.