The Burning Bush, The Burning Heart-Finding my way to Inner Self
This is a essay based on my personal experiences during my meditation practice from a traditional Japanese perspective, focusing on personal and spiritual development in addition to hands on healing. It is my hope it will shed some light and become a helpful guide for people who are beginners and/or are struggling with their practice. This book is from a student perspective.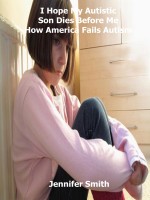 I Hope My Autistic Son Dies Before Me How America Fails Autism
Autism services are lacking in America. With little funding America is about to face an autism epidemic where autistic people will without care and a place to live. Jennifer talks about how she hopes her son dies before she does because she does not believe anyone else will be able to care for her autistic son. Jennifer shares how she tries to care for her son and prepare him for the near future.