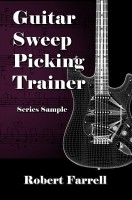 Guitar Sweep Picking Trainer: Series Sample
Preview a sample selection of 119 exercise diagrams from the Guitar Sweep Picking Trainer series. The complete series is to help you achieve: sweeping arbitrary arpeggios ascending or descending, removing technical limitations and avoiding preference to familiar patterns, fluid technique on the entire fret board for all string groups, and immediate, incremental progress.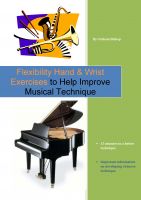 Flexibility Hand & Wrist Exercises to Help Improve Musical Technique
There is one thing all great players of music will have – flexibility in their hands and wrists. This book is a group of hand and wrist exercises that if practiced regularly should give you the greater flexibility which will, combined with enough instrument practice, give you great technique. Also the exercises are a great warm-up routine before playing.