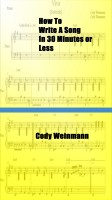 How to Write a Song in 30 Minutes or Less
by

CJW Books
A crash course in quick songwriting, this book features everything you need to get your creative juices flowing to create chart-topping hits made for today's radio in 30 minutes or less. From inspiration to completion, this 140-page package gives you all you need!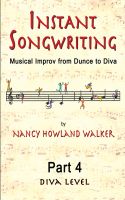 Instant Songwriting: Musical Improv from Dunce to Diva Part 4 (Diva Level)
by

Nancy Howland Walker
This is the fourth and final part to Instant Songwriting - the ultimate how-to book for musical improvisers and an excellent resource for songwriters. Nancy Howland Walker guides you with clear, logical and fun step-by-step exercises, from the very basics of putting a song together, to highly advanced song techniques. Musical tracks accompany each exercise so you can practice and master each step.