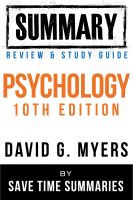 Psychology Textbook 10th Edition: By David G. Myers -- Summary, Review & Study Guide
Trying to dominate the material before class? Or just cramming for a mid-term? Either way, here's your unofficial companion to David G. Myers' textbook Psychology, 10th Edition. Each chapter-by-chapter summary contains a Chapter Overview, Section-by-Section summary paragraphs, Terms & Definitions, Key Take-Aways, and Review Questions & Answers. Download it and start studying right now!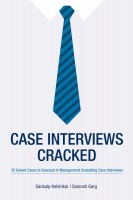 Case Interviews Cracked
Sankalp Kelshikar and Saransh Garg, fresh recruits at top management consulting firms provide detailed solutions to 32 of the best cases they came across during their case interview preparation. The solved solutions replicate actual interviewer-candidate conversations and provide a benchmark to compare with, while highlighting key insights often missed by candidates.