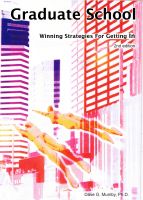 Graduate School: Winning Strategies For Getting In
This book provides college students with the information they need to apply successfully to graduate school. Misconceptions about graduate school are revealed and dispelled, including the most common myth – that one must have excellent grades to get in, and that excellent grades are all one needs. Other factors that may play a bigger role than GPA are discussed.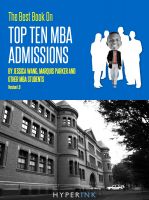 The 2012 Best Book On Top Ten MBA Admissions (Harvard Business School, Wharton, Stanford GSB, Northwestern, & More)
Our Elite MBA Insiders Share Their Secrets To Getting Into HBS, GSB, Wharton & More! We know exactly how you feel. We've been through the grueling and stressful admissions process. As successful applicants to HBS, GSB, Wharton, and other top programs, we have the insider tips and strategies that take the guesswork out of MBA admissions.