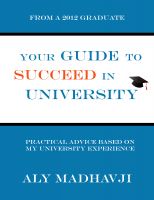 Your Guide to Succeed in University
(5.00 from 5 reviews)
This informal guide will equip you with the necessary tools to navigate through and excel in university. This guide will discuss topics ranging from what you'll experience in your first few weeks of university, to how to find a mentor, to networking and post-graduation. It includes many personal experiences throughout my university career for the reader to relate to and learn from.
The Edupunks' Guide to a DIY Credential
(3.00 from 1 review)
A first-of-its kind resource for the future of education: a comprehensive guide to learning online and charting a personalized path to an affordable credential using the latest innovative tools and organizations. Real-life stories and hands-on advice for today's students, whether you're going back to school, working, transferring colleges, or pursuing lifelong learning goals.