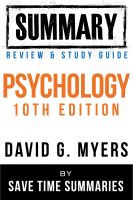 Psychology Textbook 10th Edition: By David G. Myers -- Summary, Review & Study Guide
Trying to dominate the material before class? Or just cramming for a mid-term? Either way, here's your unofficial companion to David G. Myers' textbook Psychology, 10th Edition. Each chapter-by-chapter summary contains a Chapter Overview, Section-by-Section summary paragraphs, Terms & Definitions, Key Take-Aways, and Review Questions & Answers. Download it and start studying right now!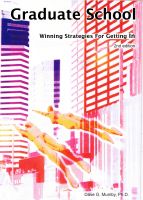 Graduate School: Winning Strategies For Getting In
This book provides college students with the information they need to apply successfully to graduate school. Misconceptions about graduate school are revealed and dispelled, including the most common myth – that one must have excellent grades to get in, and that excellent grades are all one needs. Other factors that may play a bigger role than GPA are discussed.