Sub-categories:
Romance | Short stories | Fantasy | General | Contemporary | Historical | Suspense | Western | Futuristic | Mystery & detective | Classical & allegory | Amish & Mennonite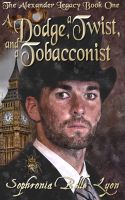 A Dodge, a Twist and a Tobacconist
(3.00 from 1 review)
A literary dream team of crime fighters including nods to Dickens, Stevenson, Alcott, Austen, Kipling, Doyle, with plenty of homages to great books sprinkled throughout. Prowl the foggy London streets on the track of a ruthless enslaver of souls. Travel the Thames in a Giant Catfish. Soar over London in a stealth glider, and witness true redemptions and restorations no one ever imagined.