A Little Romance: Stories for Hopeful Hearts
A refreshing departure for this author, who usually does historical mystery and suspense, now indulge in this charming collection of optimistic stories about life-long devotion, forgiveness, overcoming grief and finding love in the most unexpected places—from the proverbial girl next door to a chance encounter with a ghost, and of course, love at first sight.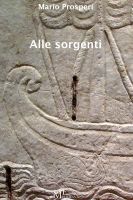 Alle sorgenti
Ventisette racconti. Un lungo percorso a ritroso attraverso duemila anni di storia in cui convergono le ricerche di due storici e drammaturghi, uno - Mario Prosperi - esposto come cattolico, l'altro, di cui resta celato il nome, che il primo considera una sorta di maestro.