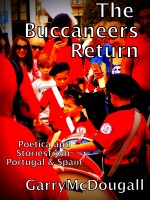 The Buccaneers Return
by

G McDougall
A surreal story of C18th buccaneers sailing into Porto harbour after the Global Financial Crisis. It's rich, colourful, playful and lyrical storytelling. Includes other unforgettable short stories and poetica from Spain and Portugal pilgrim walks.
Sophie, Rice and Fish
by

Mark Hill
Stuck in a job he hates, madly smitten with a woman two decades his junior, racing helplessly into middle age and living in a world where vodka and orange juice is considered breakfast food, Mark Hill quits his job and moves to a small town in Southern Portugal. To see photographs of the people and places mentioned in "Sophie, Rice and Fish" visit http://www.sophiericeandfish.weebly.com.
Related Categories