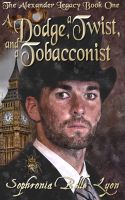 A Dodge, a Twist and a Tobacconist
(3.00 from 1 review)
A literary dream team of crime fighters including nods to Dickens, Stevenson, Alcott, Austen, Kipling, Doyle, with plenty of homages to great books sprinkled throughout. Prowl the foggy London streets on the track of a ruthless enslaver of souls. Travel the Thames in a Giant Catfish. Soar over London in a stealth glider, and witness true redemptions and restorations no one ever imagined.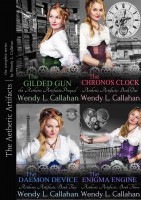 The Aetheric Artifacts
All four books of the Aetheric Artifacts are now available together in one tidy, steampunk bundle, including "The Gilded Gun", "The Chronos Clock", "The Daemon Device", and "The Enigma Engine". This steampunk fantasy adventure series set in 1892 Victorian London has science, mythology, and dreadful puns.