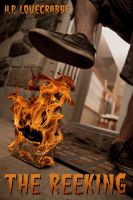 The Reeking
At least once a week, Frank Thurston Waylaid is taunted by something evil. Frozen with fear, he cannot confront that which lurks at his doorstep in the suffocating blackness of night. It is only in the safety of daylight that he ventures forth to see that which is left behind; a blackened oval of something burnt and reeking. Smell the fear in this short tale of eldritch proportions!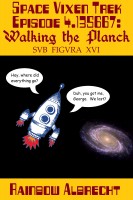 Space Vixen Trek Episode 4.135667: Walking the Planck, sub figura XVI
A dorky genius and a knuckle-headed linebacker take a prototype spaceplane out for a three hour tour. The navigational computer crashes, they're hopelessly stranded, and the jock ate too many beans. But at least the nerd is far from his greedy creditors and especially his control freak wife. Then he discovers the horrifying reason why he hasn't made a plug nickel from his super duper invention...