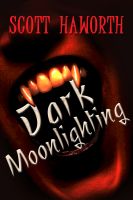 Dark Moonlighting Series - Boxed Set - Books 1-3
The first three books of the humorous Dark Moonlighting series in one convenient file. Nick Whittier is a vampire who, since he has so much time on his hands, has mastered a number of professions.
Boiled Frogs with Mock Toast
The perfect political candidate would result from the unholy union of Elmer Fudd and Jeffrey Dahmer - a cute sociopath who never gives up. A person who everyone likes, though they don't know why, and who can single-mindedly pursue a goal without regard to the destruction around him. Boiled Frogs with Mock Toast is the story of what happens when we squeeze leadership from uninterested friends.