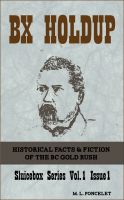 Sluicebox Series Volume 1 Issue 1
The Sluicebox Series is a collection of interesting facts and entertaining fiction about the Fraser River Gold Rush and the Cariboo Gold Rush of the 1800s in British Columbia. Read how Francis Jones Barnard's express company grew from just a two-horse wagon to a fleet of stagecoaches. Issue one includes BX Holdup,a mystery about a stagecoach robbery during the summer of 1865.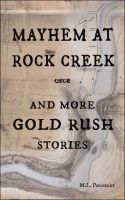 Mayhem at Rock Creek and more Gold Rush Stories
Hardship and conflict follow desperate gold seekers as they travel up the Fraser River into territory previously claimed by the Hudson's Bay Company. Galvanized by their own greed and determination, they brave swollen rivers and precipitous trails to get to the gold diggings where gold commissioners and justices await, ready to take advantage of the gold fever.