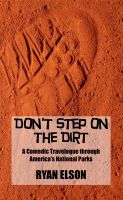 Don't Step on the Dirt
When his sister announces she's getting married in Indiana, Ryan, already unemployed, packs up his trusty car Clyde to make the journey. Never forgetting to tell the roadside cows his final destination, Ryan camps his way across the American West. Chocked full of hilarious anecdotes and amusing historical tales, Don't Step on the Dirt will change the way you take your next road trip.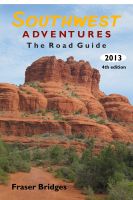 Southwest Adventures - The Road Guide
The 2013 fourth edition of this travel guide covers 32 scenic drives in the U.S. Southwest including Southern California, Nevada, Utah, Arizona, and New Mexico. Road maps and highway logs provide mile-by-mile descriptions of the Southwest routes covering state and national parks, cities and towns, plus recommendations for hundreds of restaurants, hotels, B&B inns, campgrounds and RV parks.