Sub-categories:
Cultural interest, general | Hispanic & Latino | Asian American | Jewish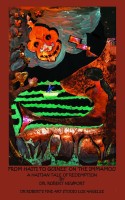 From Haiti to Guinee' on the Immamou - A Tale of Redemption
Haiti, Tropical Paradise or Hell? I wrote this Haitian Folk Tale to illuminate the roll of the loa, nature spirits, in supporting the Haitian People in a continuing desperate struggle for survival in a seductive, but very dangerous part of the world. The book is illustrated with photographs of a Haitian themed sculpted wall hanging made of flamed copper sheeting.