Sub-categories:
Cultural interest, general | Hispanic & Latino | Asian American | Jewish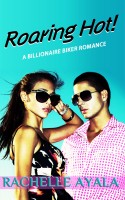 Roaring Hot! A Billionaire Biker Romance
Motorcycle racer Teo Alexiou cooks up a reality show to convince actress Amy Suzuki to play at being his girlfriend. But chemistry ignites and explodes their carefully scripted act. When Teo is injured on the track, he is left wondering if the reality show portrayed skillful acting or true love.