Sub-categories:
Cultural interest, general | Hispanic & Latino | Asian American | Jewish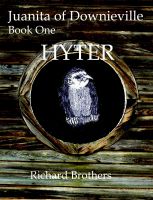 Juanita of Downieville Book One Hyter
100% of profits go to Wounded Warrior Project. This is historical fiction about the life and death of Josefa Loaiza, AKA Juanita of Downieville, the only known woman to ever be hanged in the state of California. After stabbing Fredrick Cannon to death a jury, assembled in the town saloon, found her guilty five hours later, and before nightfall she was lynched from a bridge on July 5, 1851.