Sub-categories:
Cultural interest, general | Hispanic & Latino | Asian American | Jewish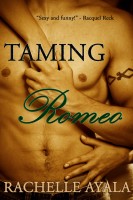 Taming Romeo (New Adult Romance)
(4.50 from 2 reviews)
Evie Sanchez is recovering from heartbreak when she runs into Romeo Garcia, the boy she left behind. Now a movie star, Romeo never understood why Evie stood him up. He whisks her away and reignites her love with romance and skillful lovemaking. But is the fantasy real or revenge? Evie and Romeo are about to discover if their buried feelings will explode in pure delight or utter disaster.