Sub-categories:
Cultural interest, general | Hispanic & Latino | Asian American | Jewish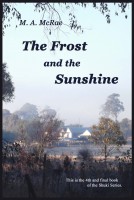 The Frost and the Sunshine
Shuki goes in search of the family of his birth, lost so many years ago. He finds Mwai and he finds Saif, his brothers. There is also Meriam, his niece, who urgently needs a new home. This is the fourth and final of the Shuki Series – the story of a modern day eunuch.