A Killing to DIE For
(4.71 from 7 reviews)
In Gaza terrorists have a new kind of missile...a deadly accurate one. In Manila a businessman lies dead, murdered by arms traffickers. In the frozen valleys of West Virginia, a veteran mourns his son. He wants answers. So does the FBI. And so does Anna...the super-spy and enigmatic killer who is torn between revenge and loyalty to her controllers.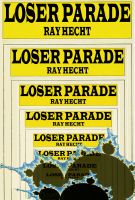 Loser Parade
(1.00 from 1 review)
Fenton Ota is at his wit's end. After not making it big as an actor in Hollywood, he's forced to return to his hometown of Cincinnati, Ohio with his tail between his legs. Once home, he embarks on a creative journey of lies and (failed) attempts at brilliance, as he struggles to produce a postmodern metafictional play, all for the love of a girl...