Sub-categories:
Spiritual & metaphysical | Psychological | Family sagas | Political | Crime | Medical | Technological | Religious | Legal | Media tie-in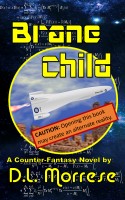 Brane Child
The Brane Skip device may allow a spaceship to skip between layers of reality, bypass normal space, and avoid the universal speed limit—the speed of light. Lisa Chang, mission commander for its first crewed test, doesn't trust it. It seems like magic to her, and she doesn't believe in magic, not even after the ship skips to a fantasy version of Earth, complete with dragons, orcs, and wizards.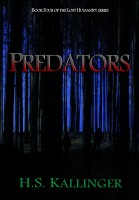 Predators
Death has been following Zack Henderson for ten years now. He woke up surrounded by it on a train a decade ago. He's watched it take friend and foe, strangers and family. It's weighed heavily on his mind. It was through death that his life finally began. He understands better than most how fragile life is, and he's done being prey. At some point, you have to stop running from death and embrace it.